************************************************************************
update!!!
Approaching our 1 year anniversary, Spiral Scratch is very excited to announce our upcoming used jazz & blues sections as well as a totally packed collection of 'previously enjoyed 7" records/45's (everything from hardcore to soul) which we will be unveiling in time
for our anniversary "gala".
Slashed prices, unseen used back stock and some rare records and dvd's ar
e just part of the whole sh-ban
g.


In the meantime, check out some of the latest incoming while it lasts. We have established some direct ordering deals with Hydrahead Records, among others, and bring you some of the latest rockin' swill for the lowest prices imaginable.
Dig it, man.

JAY REATARD - Watch Me Fall lp
- The first official full length for Matador (following last years explosive single collection), Reatard (ne: Lindsay) continues to drift away from his manic punk roots of The Reatards (and loads of other projects like Lost Sounds, Angry Angles, etc) and drifts more into catchy indie ROCK territory with this new batch of songs. Say what you will about his 'tude--the guy has worked hard to get where he is at and continues to back it up with another album full of cool. Poppy, aggressive (at times) and contained on this well produced long player, which officially turns the corner for Reatard--loaded full of of acoustic guitars, strings, melodies that stick and well crafted songs. Coming direct from Matador, we have seen this one listed at $5 more than what we have it for. Choose wisely. They're moving quick.
VENOM - Black M
etal lp
English black metal pioneers, Venom's BLACK METAL lp, the bands second album, is considered a benchmark and /or blue print for extreme metal. In addition to its greatness, its influence on black, death and thrash metal is massive--regardless of their abilities or criticism thereof. Totally satanic and lightning fast, they have stood the test of time with young fans still seeking them out.
We still have a copy or two if the IRISH ASSAULT lp, which compiles early radio broadcasts, demos and other odds and ends. Serious Venom fans should not overlook this high quality "import", either. Very limited quantites. 180 grams on what i believe to be clear vinyl.
NO NEW YOR
K Compilation - V/A
- This incredibly influencial and critically acclaimed collection was originally released in 1978 under the production of Brian Eno. Containing 4 bands (4 tracks each), No New York was thee seminal document of the short lived New York City "No Wave" scene and features James Chance and the Contortions, Teenage Jesus and the Jerks (Lydia Lunch), Mars & DNA. We've seen originals go for $40-$50, though this Russian import (180 gram) is well under $20. Described as ferociously avante-garde and ugly music, it's effects can still be seen in independent music today--though in a much more homoginized state. Love it or despise it, it's here for you.
TV GHOST - Cold Fish
Tom Shannon of the CHEATER SLICKS remarked, "This album sounds like a nightmare." I think that was meant as a compliment. This Lafayette, Indiana band ushers in a vile and squalid new disposition to ugly art punk and carves out a black hole of pestilence that will delight its sufferers to no end. If one can swim through the murky grime long enough to let one's frazzled senses adjust, it's clear how effectively TV Ghost incorporates the licentious nuances of The Cramps' earliest scuzz, no wave's cacophony, and Suicide's terrifying throb alongside cavernous bellows from the depths of the third layer of hell.
TORCHE - HEALER/ACROSS THE SHEILDS 12" w/ dvd
- Their latest offering, packaged with a dvd inside and some wild cover art. Limited quantites.
some more re-stocks this week:
Dinosaur Jr
. - Farm lp
Dinosaur Jr.
- Green Mind lp
Why
- Elephant Eyelash
Why
- Alopecia
Harvey Milk
- Life...The Best Game In Town lp (last copies)
Big Business
- Head For The Shallow
Big Business
- Mind The Drift
Big Business
- Biz-Bot Re-Mixes
Grizzly Bear
- Horn of Plenty lp
Can
- Moonshake
Charles Mingus
- The Clown
Forgotten Rebels
- In Love With The System lp
Akron/Family
- Set 'Em Wild, Set 'Em Free
Assemble Head In Sunburst Sound
(playing buffalo soon!)
Sonic Youth
- EVOL lp
Sonic Youth
- Sister lp
Sonic Youth
- The Eternal (their latest! lowest price anywhere!!)
New Order
- LowLife
New Order
- 1981-1982 (not the expensive re-issues!! Factory Records imports @$11!!)
Icons of Filth
- Onward Christian Soldier (last copies...these were a bitch to track down)
Clouds
- We Are Above You
King Tuff
- Was Dead
The Sword
- Gods of the Earth
The Sword
- Age of Winters
Dead Kennedys
- Plastic Surgery Disasters
Dead Kennedys
- Bedtime for Democracy
MC5
- Kick Out The Jams
Wavves
- s/t
Mogwai
- Mr. Beast 2x lp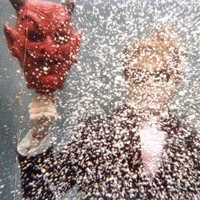 TY SEGALL - Lemons/TY SEGALL - s/t
As the northern california psych-garage scene flourishes, you can safely put TY SEGALL among the best coming out of that scene, or any scene for that matter these days. His latest, Lemons, will undoubtedly be among the favorites we've heard this year--no brainer top 10 material here; even an improvement on last years self titled debut which won us over, too. Lemons confidentally builds on the debut with better songs, better sound--but dont dismiss the first--it's just we're seeing a guy improve on his craft. Using a lo-fi buzz and nod to 60's psychedelic garage music (he covers Captain Beefhearts immortal "Dropout Boogie"), Segall writes great songs and keeps getting better. Not the overly raucous garage rock, but a more song driven, late 60s approach. I couldnt put this one down for weeks and it's even received acclaim in publications we normally sneer at. Perhaps his appeal is more widespread than we imagined (though Barrels declared long ago: "This kids gonna be huge"). Both of Segalls' lp's are in stock, and he has recently joined forces with San Frans SIC ALPS, whose double album singles collection also remains in stock. Inquire within!
13th Floor Elevators - Psychedelic Sounds of...
Speaking of 60's psychedelic/garage music, we'd be remiss not to mention we are holding some copies of thee pivotal grandaddy of the genre...the first 13th Floor Elevators album in glorious MONO--it's definitive form according to experts on the subject. International Artists™ edition. Also, keep your eyes peeled for the frequent appearance of their second album,
Easter Everywhere
. In addition, we are carrying the fantastic
Roky Erickson and the Aliens
albums, including the A+
The Evil One 2x lp
, the rare
Gremlins Have Picture
s collection of odds and ends and
Weird Tales
.
DVD RE-UPs
URGH...A MUSIC WAR

on DVD!!!
BEST OF FLIPSIDE VIDEO

: Volume 1 (featuring Bad Religion, Dickies, Weirdos and Circle Jerks! Actually this is volume 1+6 from the original series that was on VHS with mucho added footage and full live sets from the bands. Great quality footage. Great bands. No lo-fi camcorder crap here...the Flipside crew used the best gear they had at the time, used multiple angles and best sound available.
Thats all we're tipping for now. As stated in previous updates, keep tuned for anniversary happenings, our used 7" unveiling and more incomin stock.
Also, drop in and check out our out-of-town shos calender and dont miss out on any cool shows happening up the road apiece.
-anchovies 9.14.09